The Three Keys
KBC's Keys to Kingdom Business Success
Matthew 16:19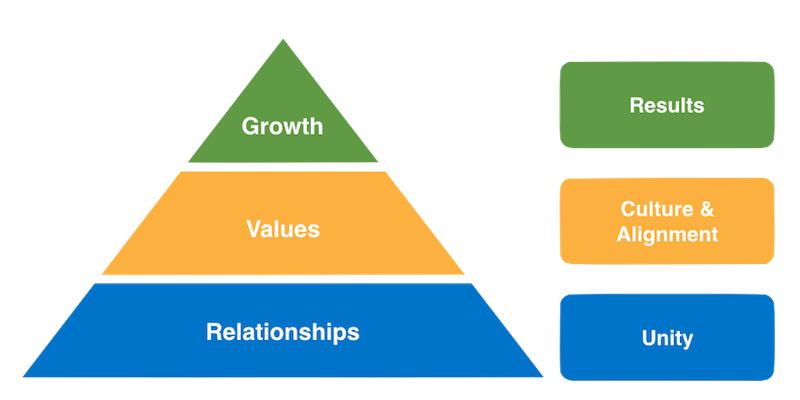 Jesus made it clear there are Keys to the Kingdom and they can lock and unlock resources in heaven and earth. At KBC, we believe to be a successful Kingdom business you have to master three keys…Relationships, Values, and Growth. While all good companies focus on Growth and best business practices, Kingdom Companies focus on growth measurements beyond people, planet, and profit, to include an eternal perspective. We believe you can't separate the spirit realm or eternity from growth. Therefore, it's essential to not focus on Growth alone, but build your growth on top of a stable foundation of healthy God-honoring Relationships and Values. In fact, it is necessary that you develop best practices in all three areas. If you have only one or two of the three keys, any success that manifests will not be sustainable…YOU HAVE TO HAVE ALL THREE. If you do, your company will manifest sustainable Unity, Culture, and Results.
Key #1: Relationships
Psalm 133 says where there is unity, God commands a blessing. This is the foundation and the most critical of The Three Keys. Jesus gave us the key to relationships when he said "Love your neighbor as yourself". The problem is most people do a horrible job at loving themselves and that's why they're not good at loving others. At KBC, we incorporate ample time into working with our clients on this principal. And Jesus provides the answer once again on how: "Love the Lord your God with all your heart and with all your soul and with all your mind". We know you cannot separate this commandment from the success of building the right team and creating unity in all the relationships in your life and business. If you ask our clients what sets us apart from our competition, this is foundational.
Key #2: Values
Within values is faith, core conviction, value descriptions, purpose, mission, vision, and polices. At KBC, we know building your business on your values is a best practice. But we take it one step further. If your values are based on the rock, your business will stand the test of time. (Matthew 7:24-27). The rock is His Word. We help our clients integrate Values into the business that firmly founded on the Word, and will stand the tests of trials and time.
Key #3: Growth
Kingdom Business Life Cycle
Each transitional stage requires you to think and act differently

Jesus made it clear that you have to be fruitful or you'll get cut off. And if you are fruitful, God will make you even more fruitful (John 15:2). In other words, if you're not growing, you're dying. The evidence is clear in all of creation. It's an undeniable fact and most are trying to grow, but many are not having success. At KBC, we understand the first step in mastering the Growth Key is understanding the Kingdom Business Life Cycle. There are different stages of business and if you keep doing the strategies and tactics that got you to where you are, you will just stay there. To take your business to the next level, you have to employ new strategies and tactics. At KBC, we help our clients experience breakthrough in Growth. It's just what we do. Growth also includes best practices in the areas of Systems, Budgets, Financial Review, Strategic Planning, Marketing, Accountability, Reward, and Succession. We'll help you grow from Profitability through Succession